04:00 - AUARAIG - YBBN to YSSY
AUARAIG is Australia's way of providing an event that is focused on being As Real As It Gets. We provide ATC at both Departing and Destination airports with ATC Students that are currently participating under our training regime. Bookings are highly encouraged otherwise delays can be experienced. Information and allocations can be found at http://au.ivao.aero and click on the AUARAIG Image.
For more information click here.
13:00 - Indonesia Online Evening 2011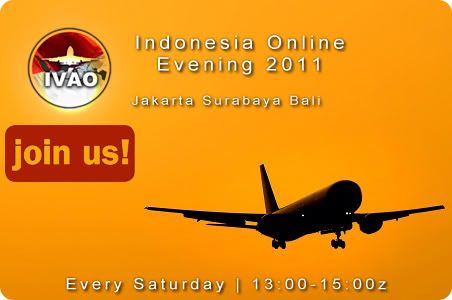 IVAO Indonesia Online Evening 2011 is a weekly online flying & controlling party from division Indonesia. Held every Saturday at 13:00-15:00z (20:00-22:00 WIB). ATC service will be provided for Soekarno-Hatta International Jakarta (WIII), Ngurah Rai International Bali (WADD)and Juanda International, Surabaya (WARR).
For more information click here.
16:00 - Russian Online Evening
Welcome to Russia every Saturday!!!
For more information click here.
17:00 - Ukraine Online Evening
Dear pilots! We invite you every Saturday to take part in ours event "Ukraine Online Evening"
For more information click here.
17:00 - Nikolaus FlyIn Hamburg
'Lasst uns froh und munter sein ...' ('Let us be happy and cheerful...') is the beginning of a traditional German Christmas carol. The song is traditionally sung on Nicholas Eve.
On Saturday 3rd December 2011 they proudly present full ATC coverage in Hamburg (EDDH) - Live from Boberg airfield. Bring them joice and hapiness between 1700 UTC and 2100 UTC.
For more information click here.
18:00 - Portugal Online Day
Welcome to the Portuguese Online Day.
For more information click here.
18:00 - Boarding to Athens
Τhe Greek Division of IVAO, in cooperation with the Hungarian Division of IVAO , invite you on Saturday 3 December 2011 to fly together from Budapest to Athens . Both airports will be fully staffed providing proffessional services to all participants. Expect ATC coverage during the biggest part of your flight. Proposed Route: LHBP-LGAV PUSTA UL616 KEROP UP192 OKLOP UL617 RAVAK UL617 NIS UL617 VAGEN UN128 RAXAD UL617 MAKED UP20 ABLON
For more information click here.
18:00 - United States Onlineday
Where the stars and stripes, and the eagle fly...
For almost a year the United States Division of IVAO hasn't seen an official or regular onlineday. The vast amount of airspace and the rather contained turnouts lead even to the most innovative concepts to fizzle out. In the last 12 months the US Division of IVAO could not only grow it's membership and ATC force in numbers, it could also increase general quality and ambitiousness of its members' ATC Service.
Now since the 3rd of July '10 the United States Division of IVAO is proudly brining it's Onlineday back. Every Saturday from 1800z on, the ATC Community of the IVAO US Division is manning the scopes to bring as much ATC coverage as possible onto the almost 30 ARTCCs that are part of the division.
So every Saturday at 1800 we invite you to taste the vastness of Americas airspace and get to know the true promise of Aviation's homeland.
For more information click here.