00:00 - Sweden Online Day
Welcome to participate in the Swedish Online Day! From 19-21 Local Swedish time, we will try to be online as much as possible. Don't forget to announce your online intentions on http://se.forum.ivao.aero. SE staff
For more information click here.
17:00 - Spanish Online Day
Wednesday evening. Great ATC coverage in Spain. Perfect for flights to and from Spain.
IVAO Spanish Division presents: Spanish Online Day. Spanish Division organises an online day every week on Wednesday.
Great coverage of ATC with great service, 5 Control Centers and many Internationals Airports. You can come and fly to most another destination.
Follow the IVAO thumb rule "As real as it gets" and...
Fly with your favorite airplane and the kind of flight that makes you enjoy. If you fly in visual, you can found wonderful beaches and fabulous cliffs. If you fly in instrumental, you follow the instructions and remember, you are number 5 in approach, speed back 210 kt, continue descent to 5000 feet and maintain present course.
If you choose to participate at this event as an ATC, you will get all the responsibility that real ATC has.
You can find charts for all Spanish airports at AENA in Aeronautical Information (AIS) banner.
Come and fly in Spain !
For more information click here.
18:00 - [DE, NL & DK] Triangle Event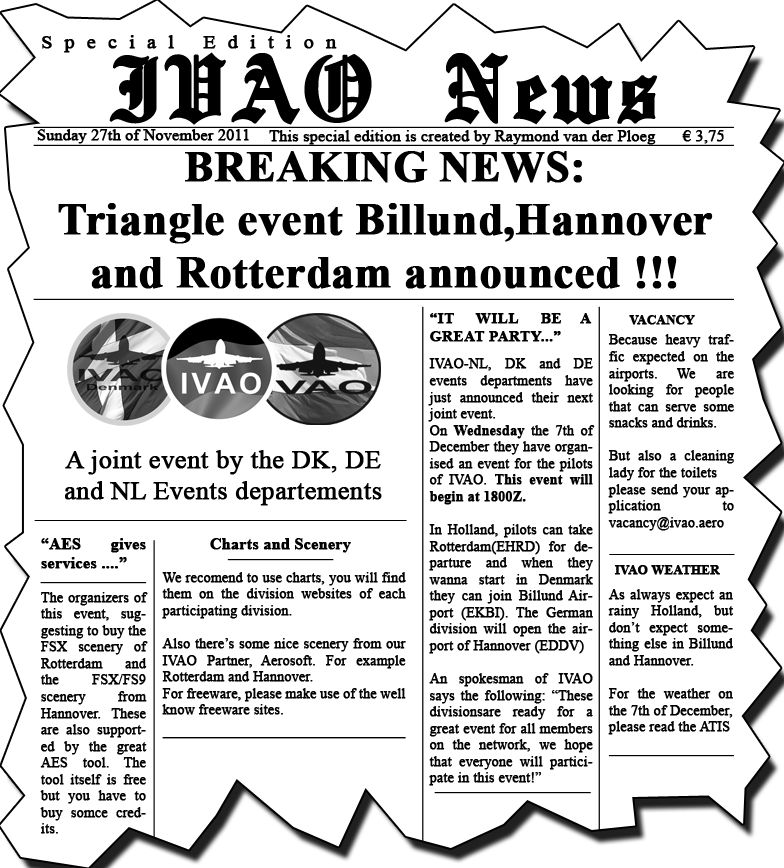 The German, Dutch and Danish divisions invite you to their first joint triangle event! On the night of the 7th of December, the German, Dutch and Danish divisions will join forces to create a regional event. Hanover, Rotterdam and Billund will be fully staffed along with all the necessary en route ATC to let pilots feel the rush of regional airports. Starting from 1800z, pilots will have a three hour window to fly between the three airports in any direction they wish. We look forward to seeing you!
For more information click here.