13:00 - Indonesia Online Evening 2011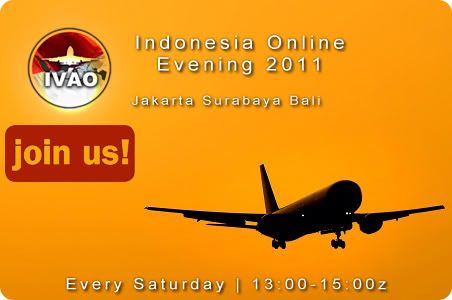 IVAO Indonesia Online Evening 2011 is a weekly online flying & controlling party from division Indonesia. Held every Saturday at 13:00-15:00z (20:00-22:00 WIB). ATC service will be provided for Soekarno-Hatta International Jakarta (WIII), Ngurah Rai International Bali (WADD)and Juanda International, Surabaya (WARR).
For more information click here.
14:00 - Indonesia SO GroupFlight Event 2011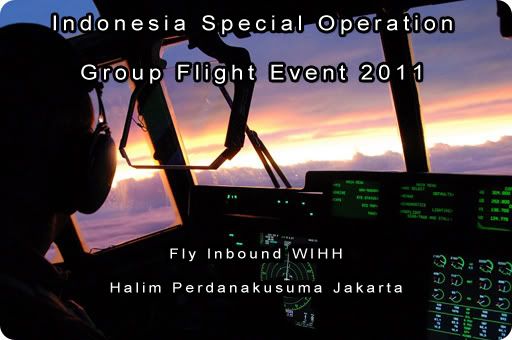 Indonesia Special Operation Staff proudly to present the SO - Group Flight Event 2011! We are invite all of pilots, specially who like to Fly the millitary aircraft from Indonesia & other division to join us at 26th of November 2011 from 14.00 UTC - 17.00 UTC.
For more information click here.
15:00 - DC-3 Dakota Retro Event
The Douglas DC-3, which made air travel popular and airline profits possible, is universally recognized as the greatest airplane of its time. Some would argue that it is the greatest of all time. It is this icon of aviation history that IVAO PT intends to create a memorable event: The greatest concentration of Douglas DC3/DST/C-47/Dakota ever seen in virtual skies of IVAO.
For more information click here.
16:00 - Russian Online Evening
Welcome to Russia every Saturday!!!
For more information click here.
17:00 - "Fall Flyinn" De Kooy Airport EHKD
Naar een idee van Xander Rodenburg gaan we een herfst event houden, dit keer niet op een veld als Schiphol, Rotterdam, Eindhoven.....maar De Kooy !!! Dit verwacht je niet zo snel maar het is toch een leuk vlicgeveld waar ook op IVAO nog weleens verkeer en ATC te vinden is. Dit evenement gaan we op zaterdag 26 november houden, tussen 1700Z en 2100Z kun je terecht op dit leuke vliegveld!! Hieronder kun je enige informatie vinden over het vliegen van en naar De Kooy Airport.
For more information click here.
17:00 - Ukraine Online Evening
Dear pilots! We invite you every Saturday to take part in ours event "Ukraine Online Evening"
For more information click here.
18:00 - Egypt Online Day
Egyptian online night is held every Saturday at 1800 UTC. Bring your Wings & Come to see the River Nile and the Great Pyramids, and fly under our great ATC. Also feel totally free to contact me if you need anything on (eg-ec@ivao.aero)

See you there..

For more information click here.
18:00 - United States Onlineday
Where the stars and stripes, and the eagle fly...
For almost a year the United States Division of IVAO hasn't seen an official or regular onlineday. The vast amount of airspace and the rather contained turnouts lead even to the most innovative concepts to fizzle out. In the last 12 months the US Division of IVAO could not only grow it's membership and ATC force in numbers, it could also increase general quality and ambitiousness of its members' ATC Service.
Now since the 3rd of July '10 the United States Division of IVAO is proudly brining it's Onlineday back. Every Saturday from 1800z on, the ATC Community of the IVAO US Division is manning the scopes to bring as much ATC coverage as possible onto the almost 30 ARTCCs that are part of the division.
So every Saturday at 1800 we invite you to taste the vastness of Americas airspace and get to know the true promise of Aviation's homeland.
For more information click here.