08:00 - [HQ] PDE - Lubeck Airport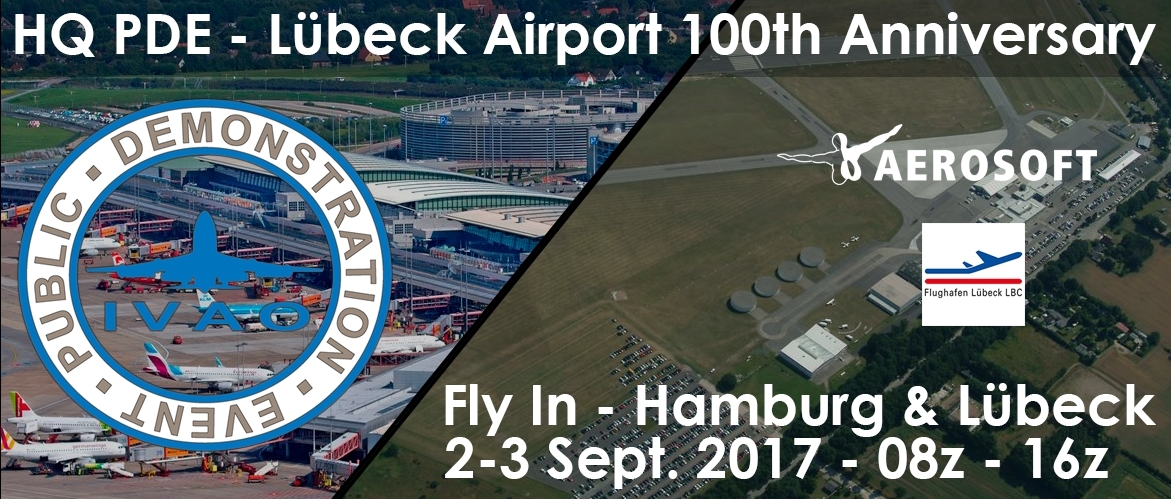 IVAO Public Relations & Event Departments are delighted to announce that IVAO HQ will be present at Lubeck Airports100th Anniversary.

This PDE will be held the 2nd and 3rd of September, 08-16z (10-18 lcl time)

This will be an exciting opportunity for you to meet IVAO Staff members, take a flight in our flight stations,
and watch plenty of beautiful aircraft's. You will find our booth directly to the left of the entrance.

We will be holding a Fly-In/Fly-Out at Hamburg (EDDH) and Lubeck (EDHL)
ATC service will be provided from the stand, through which
visitors will be able to take an inside look at how IVAO works.

Mark your calendars, 2nd and 3rd of September, 08-16z (10-18 lcl time)

We gladly see your flights during our Fly In/Fly Out, as both Hamburg and Lubeck will be staffed.
So bring your aircraft and show our visitors how a crowded airspace looks like.

Hope to see you there!

For more information click here.
12:00 - [ID] Kambing Express
IVAO Indonesia proudly present our KAMBING EXPRESS (GOATEXPRESS), After many years, Kambing Express is back to the Indonesian Division as our way to celebrate the Eid-Al-Adha online. As always, Throughout the few days after Eid, meat for the poor is distributed around the country, and our focus airport for this event will be Lombok Praya International Airport at the island of Lombok, situated next to the more well known Bali, and both islands compete for tourism and their positions as the distribution hub for the islands to the south eastern part of Indonesia.

We invite you to join us on 3rd September as "Kambing Express" is back after 8 years, with ATC coverage of Lombok. (If you want to fly to neighbouring Bali as well, you're more than welcome!)
For more information click here.
16:00 - [UA+HU] Air Shuttle Budapest - Kyiv
IVAO Hungary and IVAO Ukraine are presenting new air shuttle event between Budapest and Kyiv. This Sunday evening you would enjoy professional ATC coverage all over the route.
For more information click here.
17:00 - Caribbean OnlineSUNday
We invite you to spend your flight in the Caribbean Area...
For more information click here.
18:00 - [HR] Croatia Online Evening
Croatia Online Evening is organised every Sunday from 18:00z. Come and join us, expect extended ATC service and enjoy the magnificent scenery of our country.

We're looking forward to seeing you!
For more information click here.
19:00 - [CL] Chile Online Day
Se trata de un evento todos los Domingos desde las 19:00z, en el cual puedes controlar en la posición que prefieras, y volar en la aeronave que prefieras.
For more information click here.