12:00 - [PL]POLAND ONLINE DAY 12-21Z
Come and fly to Poland! We are providing full ATC every saturday from 12z to 21z
For more information click here.
18:00 - [EG] Egypt Online Day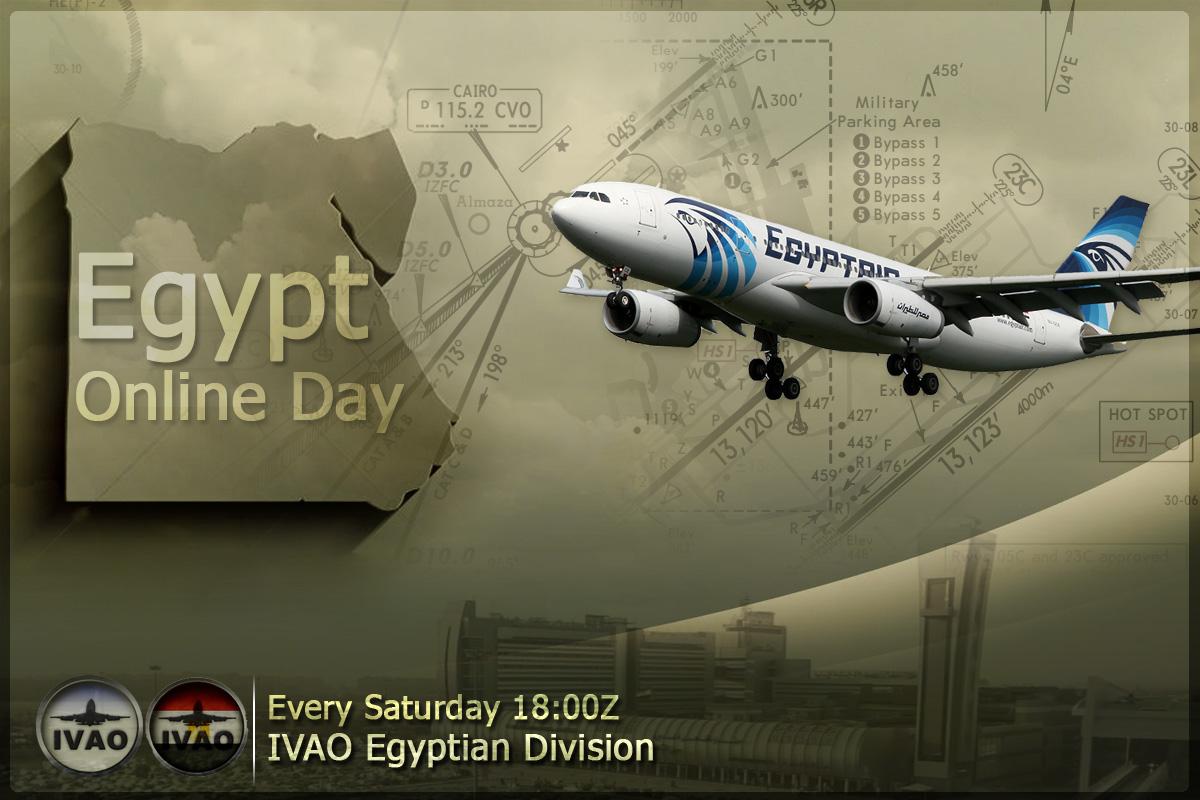 Egypt Online Day

Every Saturday IVAO Egypt will hold an Online Day Event, which will take place from 18z-21z. The event will consist of two or more aerodromes or TMAs offering FULL ATC for the duration of the event. Each Online Day will be in different locations, the locations will be chosen by members through voting through our EG Discord channel or through our EG Facebook page, the locations that receive the most votes will be those that will participate in the event.

Voting will start on Monday, and will end on the Thursday preceding the Saturday of the event.

If you have any questions, here are our email: eg-ec@ivao.aero
For more information click here.
18:00 - [SO Event][HQ] Operation Crowded Skies
[Specal Opeariotions Event]
Special Operations HQ invites you to Operation Crowded Skies, part of the network-wide Crowded Skies event. This year we invite the SO community to bring their SO aircraft to the United Kingdom, to either RAF Coningsby (EGXC) or RAF Waddington (EGWX). As the network aims to break records this year, we want the SO community to be involved; therefore, we invite you to depart or arrive to at least one of the airfields and be airborne during the peak.
Both airfields will be open 1800z-2000z allowing all pilots to ensure they are airborne for the 1900z peak. So as well as being issued the crowed skies award as part of the Crowed Skies Event, all pilots that fly to or from these airfields will be awarded 2 points towards their Fighter jet award.


For more information click here.
23:59 - [HQ] Crowded Skies XVI
IVAO presents its premier event "Crowded Skies XVI" on the 4th December, 2021. This record breaking unique event sets the entire IVAO skies alive and active. This all-day event involves dozens of countries worldwide providing extensive ATC coverage for literally thousands of online flights. We expect peak traffic to start building from 19:00 UTC so make sure you are able to join in and experience the very best that IVAO has to offer.

We are delighted that our sponsor Aerosoft will again be donating to charity 1 € for each simultaneous connection made to our network during the peak hour.

For the last Crowded Skies we set a total number of 2238 simultaneous connections and we hope you will help us beat that as well as our record of 3004 simultaneous connections this year!
For more information click here.