05:00 - [XO] Oceanic Region - Sunday Online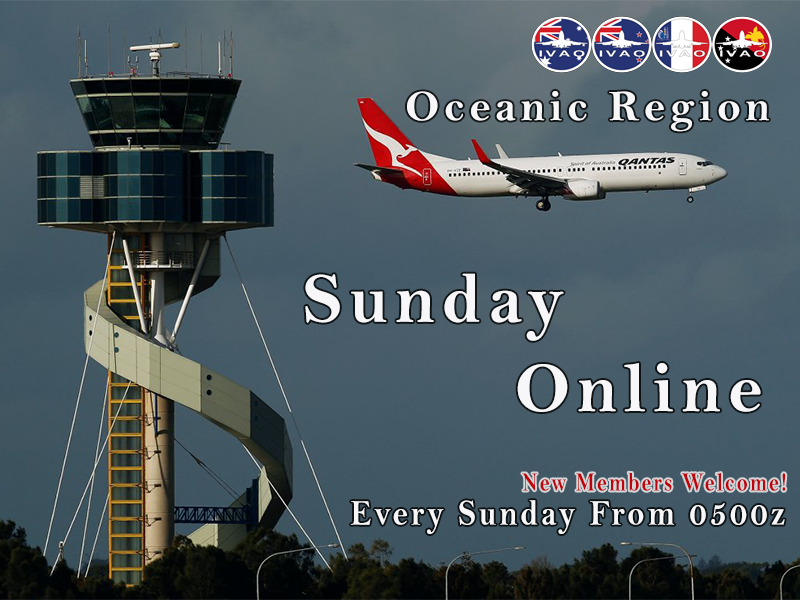 Welcome to IVAO Oceanic Region Sunday Online!

Our weekly Sunday afternoon flight which takes place in its traditional kick off time of 0500z. Each week will see a different point to point flight giving current and NEW Members the chance to fly together along with experiencing some ATC in the Oceanic Region to go with it.
For more information click here.
15:00 - Warsaw Single Runway Ops
Dear IVAO-Members
As a result of the renovation of the runway 15/33 we invite you to the Warsaw Single Runway Ops on 9th of April, from 15.00 UTC to 19.00 UTC.

We hope to see you in the Polish sky!
For more information click here.
17:00 - [HR] Croatia busy Sundays
Join us on Croatia busy Sundays. We will try to provide you as much ATC as you can get. All those are good ATCs adn will help you with anything you need to enjoy flying our FIR. If no one will be online, dont blame us, no hard feelings, we just dont have time maybe, or all of busy somehow. But we will try ;)

Enjoy our Airports, Seaports and airfields and our virtual sky
For more information click here.
17:00 - [HQ+PT] Madeira Evolution Fly-In
The new Aerosoft Madeira X Evolution is out. Is there a better way to celebrate it, other than doing a massive fly-in? We don't think so! Book your slot fast, otherwise you won't be getting a spot on the tarmac.
For more information click here.
17:00 - [XN] Nordic Region Online Day
Each Sunday the Nordic Region will provide the possibility to have ATC coverage for a stunning area from Helsinki to Reykjavik, from the North Cape to Copenhagen. Bring your wings and enjoy this great ATC coverage.
For more information click here.
18:00 - [CO] Medellin Overload

IVAO Colombia
Presents the event MEDELLIN OVERLOAD, This event is scheduled for
Sunday, April 9, 2017 from 1800Z a 0000Z.


Come and join us in this event, We invite you to participate on April 9 to this event that consists of flying either entering or leaving the airports of the Medellin TMA and overload traffic this air space if part of this event flying as a pilot.

More Info : http://co.forum.ivao.aero/index.php?topic=301079.0
For more information click here.
19:00 - [CL] Chile Online Day
Se trata de un evento todos los Domingos desde las 19:00z, en el cual puedes controlar en la posición que prefieras, y volar en la aeronave que prefieras.
For more information click here.
19:00 - [AR+XU] Remembrance to the fallen
IVAO Argentina and IVAO United Kingdom and Ireland are pleased to invite you to join us to the joint event REMEMBRANCE TO THE FALLEN that will take place on April the 9th from 19 to 22 UTC. We're gonna fly with the main idea of making a symbolic embrance to the Islands as sign of respect and commemoration to the fallen heroes. We will fly between Rio Gallegos (SAWG), Port Stanley (SFAL) and Mount Pleasant (EGYP) airports in the way that is detailed under CHARTS AND ROUTES item.
For more information click here.