00:00 - [14 MAY | 15z - 19z] [PL] Procedural Evening
Dear Pilots and Controllers

We are pleased to present and invite You to the extraordinary Event that will cover the whole of Poland.
On Sunday, 14 May 2017 at 15z to 19z

Procedural Evening.

Be prepared for six international airports with procedural control for IFR and VFR flights


For more information click here.
05:00 - [XO] Oceanic Region - Sunday Online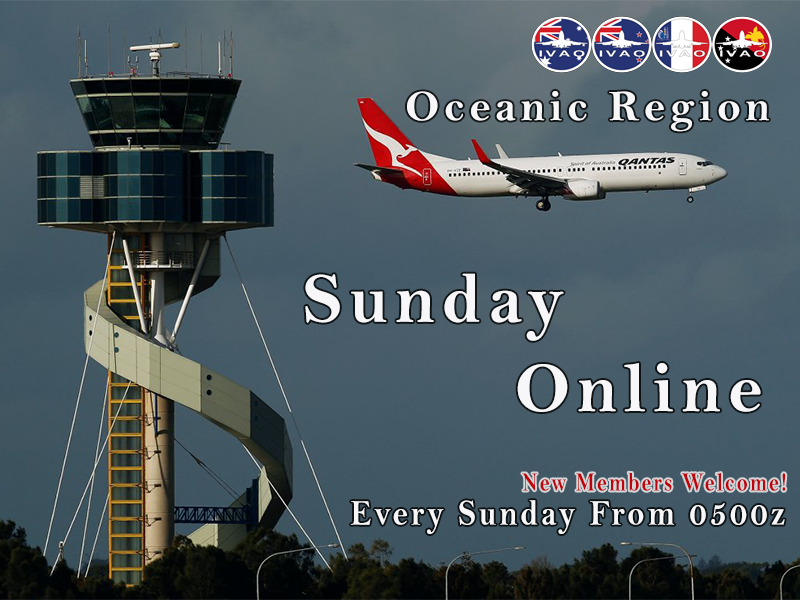 Welcome to IVAO Oceanic Region Sunday Online!

Our weekly Sunday afternoon flight which takes place in its traditional kick off time of 0500z. Each week will see a different point to point flight giving current and NEW Members the chance to fly together along with experiencing some ATC in the Oceanic Region to go with it.
For more information click here.
17:00 - [NO] Nordic Shuttle: Oslo Gardermoen - Trondheim Værnes
Join the Nordic Shuttle on Norway's busiest route!
On Sunday May 14th from 17z til 20z you can enjoy full ATC coverage while flying between Oslo Gardermoen and Trondheim Værnes.
For more information click here.
17:00 - [AT] Low-Level Airbridge LOWL - LOWK
Hello, dear friends of aviation. As the 'Air Taxi Challenge Tour' is such a great success, we want to explore that direction a little more. So we invite you again to leave your big ones hangared and give your small and medium sized aircraft a chance. Therefore we man Austrians two smallest airports, Linz and Klagenfurt to challenge both ATC and the pilots.
We'll be pleased to see you pull out your pistons, turboprops and business jets, wipe 'em clean and then watch the alps from above. But not from far above, FL 245 is maximum.

We, the AT Event Department wish you fun and a great experience.
For more information click here.
18:00 - [HR] Croatia Online Evening
Croatia Online Evening is organised every Sunday from 18:00z. Come and join us, expect extended ATC service and enjoy the magnificent scenery of our country.

We're looking forward to seeing you!
For more information click here.
19:00 - [CL] Chile Online Day
Se trata de un evento todos los Domingos desde las 19:00z, en el cual puedes controlar en la posición que prefieras, y volar en la aeronave que prefieras.
For more information click here.