05:00 - [XO] Oceanic Region - Sunday Online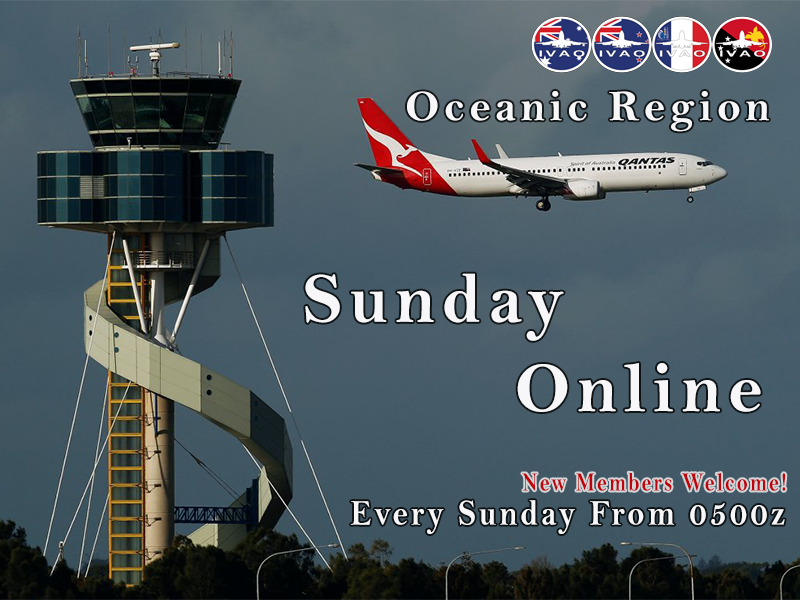 Welcome to IVAO Oceanic Region Sunday Online!

Our weekly Sunday afternoon flight which takes place in its traditional kick off time of 0500z. Each week will see a different point to point flight giving current and NEW Members the chance to fly together along with experiencing some ATC in the Oceanic Region to go with it.
For more information click here.
13:00 - [IT] Milano RFE 2017
On Sunday 21 May 2017, from 13z to 17z come back,as usual, one of the most important RFE
for Italian Division that will involve the city of Milan, with both of its airports: Malpensa LIMC and Linate LIML.
Waiting for you a full ATC service and more than 200 schedulable flights.
We will simulate all real flights to and from this airport.
You can't miss it! Looking forward to see you in the skies!
For more information click here.
17:00 - [XN] Nordic Region Online Day
Each Sunday the Nordic Region will provide the possibility to have ATC coverage for a stunning area from Helsinki to Reykjavik, from the North Cape to Copenhagen. Bring your wings and enjoy this great ATC coverage.
For more information click here.
18:00 - [CO] Full ATC Day #2
IVAO Colombia Division proudly present you our event FULL ATC DAY #2 of this year. Event is scheduled for Sunday, 21th May 2017 from 1800Z to 2300Z.

Come and join us in our event, We invite you to control in the Colombian virtual territory during part of the day on Sunday, May 21st, 2017, be part of this event being ATC or Flying as a pilot.

More info: http://ivaocol.com/en/
For more information click here.
18:00 - [HR] Croatia Online Evening
Croatia Online Evening is organised every Sunday from 18:00z. Come and join us, expect extended ATC service and enjoy the magnificent scenery of our country.

We're looking forward to seeing you!
For more information click here.
19:00 - [CL] Chile Online Day
Se trata de un evento todos los Domingos desde las 19:00z, en el cual puedes controlar en la posición que prefieras, y volar en la aeronave que prefieras.
For more information click here.