08:00 - [XB] PDE - IVAO at Aviationday - Fly in/out EBBR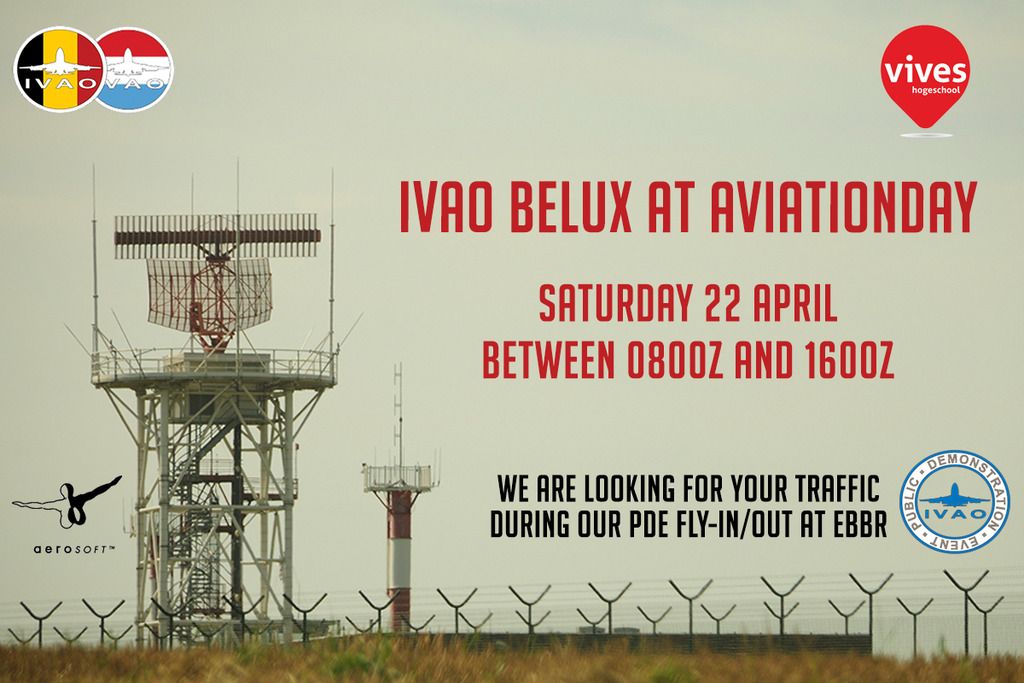 On a yearly base, the Flemish government organizes "Aviation Day".
On this day, all important players in aviation get the occasion to promote themselves
and to make people warm to choose a job within aviation. Not only
airlines, but ATC facilities and high schools for technical jobs open up their venue.
Vives Oostende is one of the high schools in Belgium that offer
a training in aviation technology, and they invited us to show
what we can mean inside their educational program.
All positions will be staffed at our PDE, unless requested during the PDE via mail
1 hour in advance to opening the position (XB-EAC at ivao.aero)
For more information click here.
10:00 - [CH] Geneva RFE 2017
Event Date: Saturday 22/04/2017
Event Time: 1000z - 1700z
Event Type: Real Flight Event

In order to spend an afternoon and evening of full immersion "as real as it gets", full ATC service will be provided at Geneva Airport!
More than 150 flights are waiting for you! Be ready to enjoy full ATC coverage and to discover Geneva!

On the 22nd April 2017 from 10z to 17z, we will host the RFE Geneva 2017. We will be ensuring the best ATC service, Swiss precision and coordination.
For more information click here.
12:00 - [ID] Fly In/Out Palembang
IVAO Indonesia Proudly present our Start-Up Scenery Developer Event. This event supporting Indonesia's Start-Up Scenery Developer who develop Indonesia Airport Scenery. Our First event for SSDE will be host in Palembang, the great scenery from MujaGo Aviation. It will be the biggest event in April! Feel the real sensation. Enjoy Palembang!
For more information click here.
16:00 - [SY] Syrian Online Day
Every Saturday from 1600z to 2100z .
Full ATC in Syrian fir
For more information click here.
17:00 - [DZ] IVAO ALGERIA SPEAK ENGLISH

ONLY ENGLISH EVENING.

Every Saturday 17:00 Zulu, members of the Algerian Division are invited to communicate only using English phraseology. everybody is welcome to fly in our skies to discover the talent of the most active division in Africa.


DZ Division wish you good flight !


All charts are available at: Algeria Charts

Come and fly in Algeria !
For more information click here.
18:00 - [HU] Hungarian Online Evening
Fly to the fully staffed Hungary FIR, every Saturday, and report your leg to the MODA system.
Hope to see you there.
For more information click here.
22:00 - [VE+DO] Airbridge: SVMI - MDSD
IVAO Venezuela and IVAO Dominicana are proud to invite you to participate on Saturday April 22nd from 22:00 UTC to 00:00 UTC to our event Airbridge: Maiquetía (SVMI) - Santo Domingo (MDSD)
For more information click here.
22:00 - [CO] Full ATC Night #2
IVAO Colombia Division
proudly present you our event FULL ATC NIGHT #2 of this year. Event is scheduled
for Saturday, 22th April 2017 from 2200Z to 0500Z.

Come and join us in our event, We invite you to control in the Colombian virtual territory during part of the night on Saturday, April 22, 2017, part of this event being ATC or Flying as a pilot.

More Here: http://co.forum.ivao.aero/index.php?topic=301964.0
For more information click here.