00:00 - [CH] Swiss Sunday
Dear Pilots and Controllers,

After the typical hourlong family dinner, the pile of homework or the hours of doing nothing, come fill up the swiss skies! A blast of fresh air before diving back into the week.

Bring over your wings to Switzerland and meet our beautiful airports. Come on to do some IFR between our main airports or take your VFR certified plane out of your hangar!

For any flight, or ATC position, report your leg to win the ONLINE DAY AWARD !
For more information click here.
00:00 - [XR+HQ] El Clasico 27 hours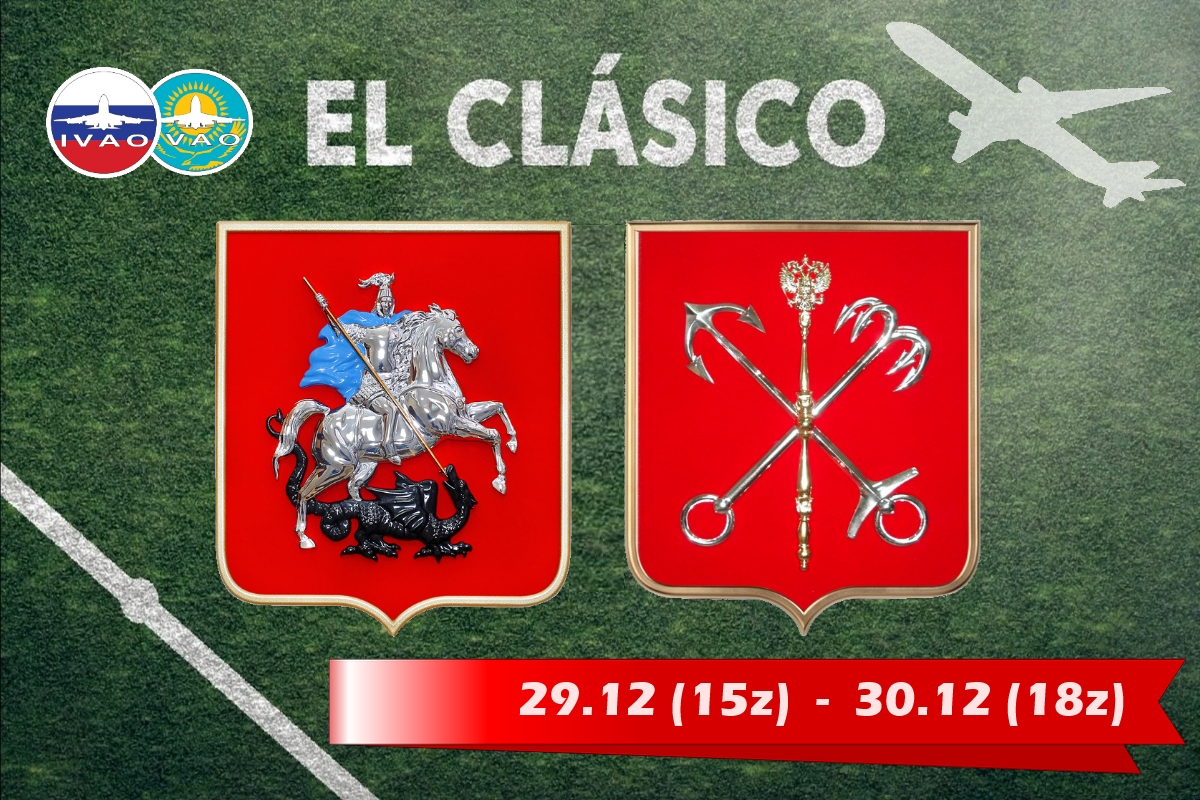 Dear friends!

New Year is coming. And it is time now to summarise everything we have done during this outgoing year. I hope that we all have done well this year and had a lot of good events and moments together. And the end of the year should be even greater than all we had before, so... "El Clasico", 27 hours of non-stop full-staff in the busiest Moscow airports: Sheremetyevo, Domodedovo and the Northern Capital of Russia airport: Pulkovo. Starting on 29 December at 15z we would like to welcome everyone from all over the world to join us at the last weekend of 2018, especially those who live on another side of the globe and didn`t have the possibility to fly between Moscow and Saint-Petersburg under ATC service before due to the time difference, and we will finish on 30 December at 18z, so you can fully enjoy New Year time first with us and with your family afterwards.
See you there and we wish you a Happy New year!
For more information click here.
13:30 - [DE+TR] Years end flight 2018
The year is coming to an end ...

... and we want to finish it traditionally with the year-end flight. We therefore cordially invite you, together with the Turkish Division, to this year's year-end flight on 30.12.2018 to catch the year with many other flight enthusiasts with a flight between Cologne (EDDK) or Dresden (EDDC) to the largest Turkish airport, Istanbul Ataturk (LTBA) to complete. German ATC coverage awaits you between 1330z and 1630z - ATC in Istanbul is set from 17z to 19z. In this period (17z to 19z) should therefore be your landing. As a small bonus you can expect a follow-me-service on site.
For more information click here.
15:00 - [30 DEC | 15z] [AT] Years End Group flight to Birmingham (EGBB)
Our year-end group flight brings us this year
[center][url=https://en.wikipedia.org/wiki/Birmingham][size=24pt][b]Birmingham (EGBB).[/b][/size][/url][/center]

At the same time, this group flight is the last leg of our Advent Tour 2018.

We look forward to a nice flight to a rather rarely approached destination airport and many nice conversations on the AT-TS3!
For more information click here.
15:00 - [IN] VIDP CAT III ARRIVAL CHALLENGE
IVAO India welcomes all the IVAO Pilots to fly in to our New Delhi CAT III Challenge Event on Sunday, 30th of December 2018 from 1500Z to 1700Z.

During this season New Delhi experiences dense fog at the night and dawn time. India Division will be simulating this event, fully staffed and will be organizing on the IVAO Network.

PLEASE VISIT OUR WEBSITE, we got more information's for you.
For more information click here.
18:00 - [XN] Nordic Region Online Evening
Each week the Nordic Region will provide the possibility to have ATC coverage for a stunning area
from Helsinki to Reykjavik, from the North Cape to Copenhagen.

Bring your wings and enjoy this great ATC coverage.
For more information click here.
19:00 - [CL] Chile Online Day
Chile Online Day takes place every Sunday from 19:00z. Come and join us, full ATC coverage service and a escalated rate of pilots in the skies.

We hope see you there.

For more information click here.
19:00 - [HR] Croatia Online Evening
Croatia Online Evening is organised every Sunday from 18:00z. Come and join us, expect extended ATC service and enjoy the magnificent scenery of our country.

We're looking forward to seeing you!
For more information click here.