00:00 - [AR] ONLINE DAY
Every Saturday IVAO Argentina will hold an Online Day Event - We are waiting for you

Saturdays from 00:00z to 23:59z - Peak Hour: 18:00z to 21:00z
For more information click here.
17:00 - [XN] Nordic Evening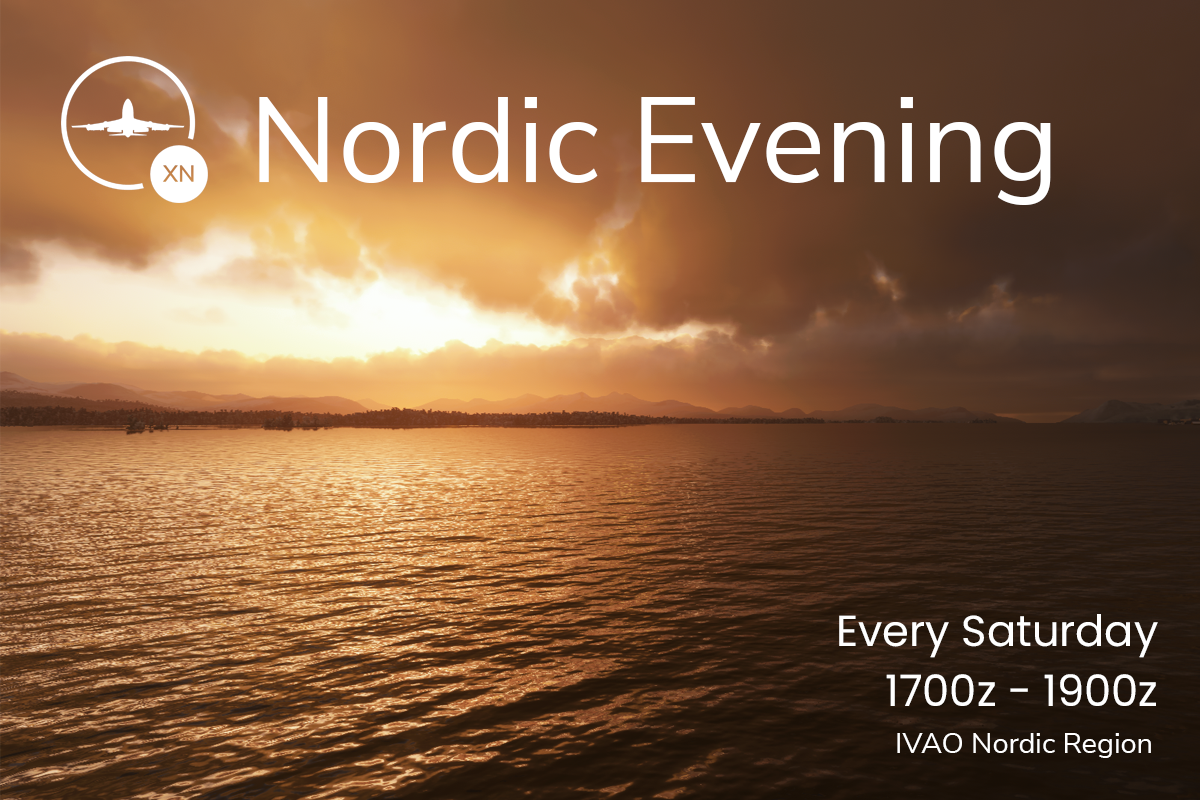 Every Saturday the Nordic Region will staff as much as the Nordic region as possible for all members to enjoy great scenery and service.


For more information click here.
19:00 - [VE] Venezuela Online Day
The Venezuela Division wants to invite you to participate in its weekly event "Online Day Venezuela"
with full control in Venezuela.
We are waiting for you, we are counting on you!
For more information click here.
22:00 - [26 NOV | 05z - 22z] [HQ+DE] Dusseldorf RFO
From Dusseldorf into the whole world!
Since 1927, Dusseldorf Airport has been a departure and destination aerodrome for holiday and business travelers from all over the whole world and it's an important hub for the Rhine-Ruhr metropolis. Before the Covid-19 pandemic, the airport could record up to 226 thousand aircraft movements annually: For aviation enthusiasts, the most important international hub in North Rhine-Westphalia is always worth a visit - whether virtual or in reality.
For more information click here.
22:00 - [26 NOV | 12z - 16z] [XE+ID] Apa kabar, Sumatera
The cold winter is coming. Missing a warm holiday? Then heading to the south. This time, the destination is Palembang,
the second largest city on Sumatra Island, Indonesia. Once to be the capital of Samboja Kingdom, which become rich through spices trade.
Nowadays spices are also an indispensable part of local cuisine, even all Indonesian say that Palembang people are the best at eating hot and sour.
The sauce, Cuko Palembang, for dipping Pempek, is exactly made from several spices. Including macadamia, palm sugar, garlic, chilli, and dried shrimp.
While exploring this mysterious ancient city in the virtual, may also consider incorporating it into your foreign vacation.
For more information click here.
22:00 - [26 NOV | 16 - 20z] [ES] THE AIRBRIDGE
On November 26th we bring back the most emblematic and conspicuous event of the Spanish division: "EL PUENTE AÉREO" (THE AIRBRIDGE)

Do not make plans and book a slot alongside your friends. Keep an ear out for delivery frequencies because in this event we are joining the two most important cities of Spain filling our virtual skies!

Help us make this a flagship event for the Spanish division once again, you cannot miss it!
For more information click here.